When it comes to big name brands in the gaming chair world, Corsair has definitely cemented its place in recent years. The tech brand has stood out from the crowd by making mid-range models which cater to cash-strapped consumers, and the new TC100 Relaxed is its cheapest by far. 
While aggressively priced, the Corsair TC100 Relaxed doesn't sacrifice quality where it matters most. It looks and feels every bit like some of the higher-end chairs I've had my hands on in recent years, and it does more than enough to be considered one of the best cheap gaming chairs and one of the best gaming chairs for the asking price.  
Price and availability
The Corsair TC100 Relaxed is available now in the US, the UK, and Australia for $199 / £199 / AU$399 and can be gotten in either a black leatherette or two choices of fabric color between black-on-black and black and grey. It's around $50 / £50 / AU$50 cheaper than the previously most-affordable in the lineup, the TC70 Remix, being the first Corsair chair to sell at this price point.  
Assembly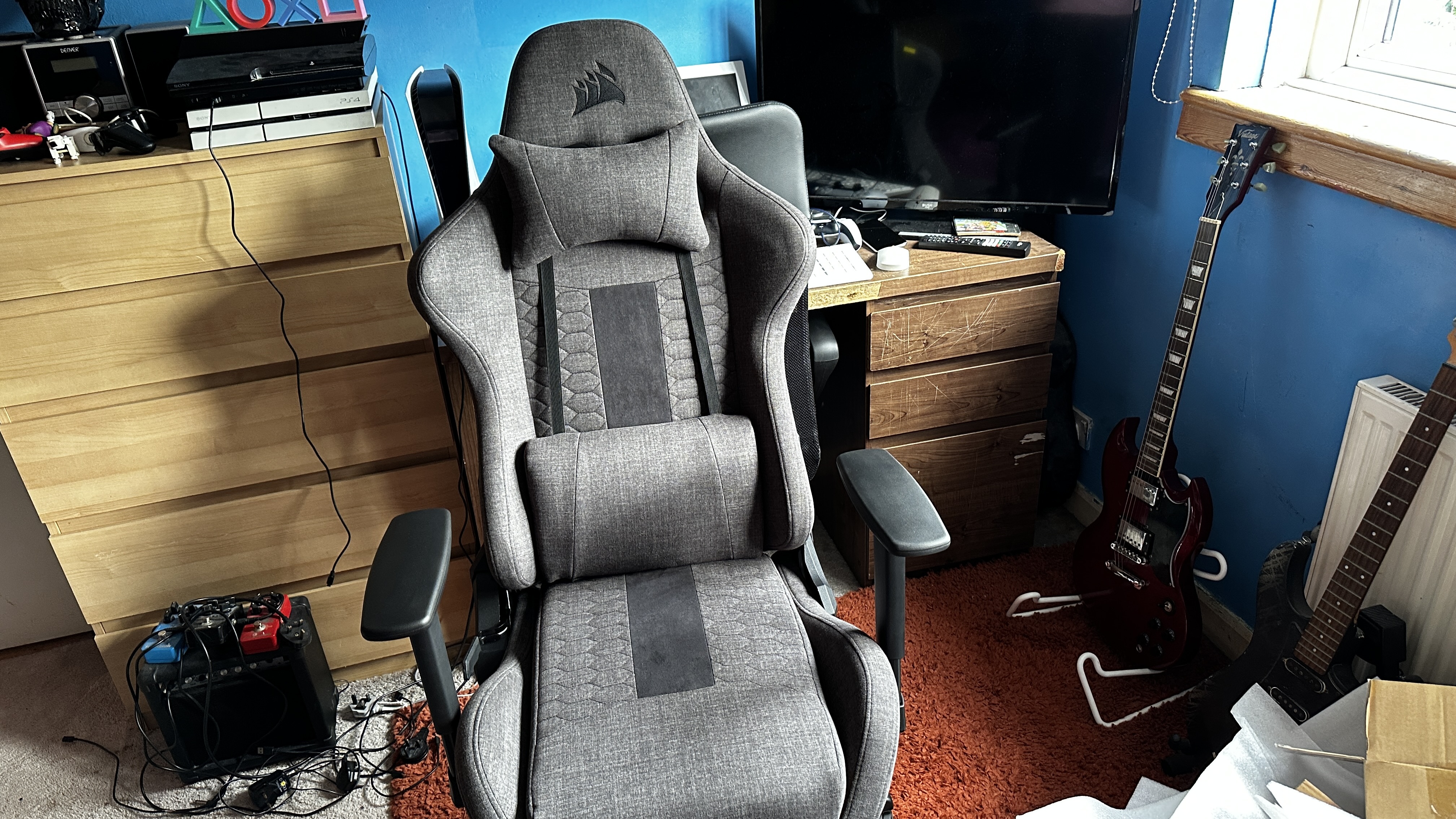 Putting the Corsair TC100 Relaxed together is an average and occasionally frustrating experience. I've put together a lot of gaming chairs over the years, and I have to say that this was far from the easiest. I strongly recommend having a friend or family member assist with the building process because you'll need some extra support with various aspects of the assembly process. You're looking at anywhere from 30 to 45 minutes, depending on your experience level. 
No instructions were included in the box with the Corsair TC100 Relaxed. However, a guide (opens in new tab) is available online for those that need help. It's all pretty straightforward as gaming chairs go; attach the wheels to the base, add the piston, screw the mechanism onto the base of the seat, screw on the armrests, and attach the backrest to the seat. 
That can be easier said than done, though, as some of the screw holes were stubborn, and I had to put quite a bit of weight against the backrest to screw it in properly. This is definitely where the price tag was most apparent here—no quality-of-life additions, just all as basic as it gets. 
Design and Features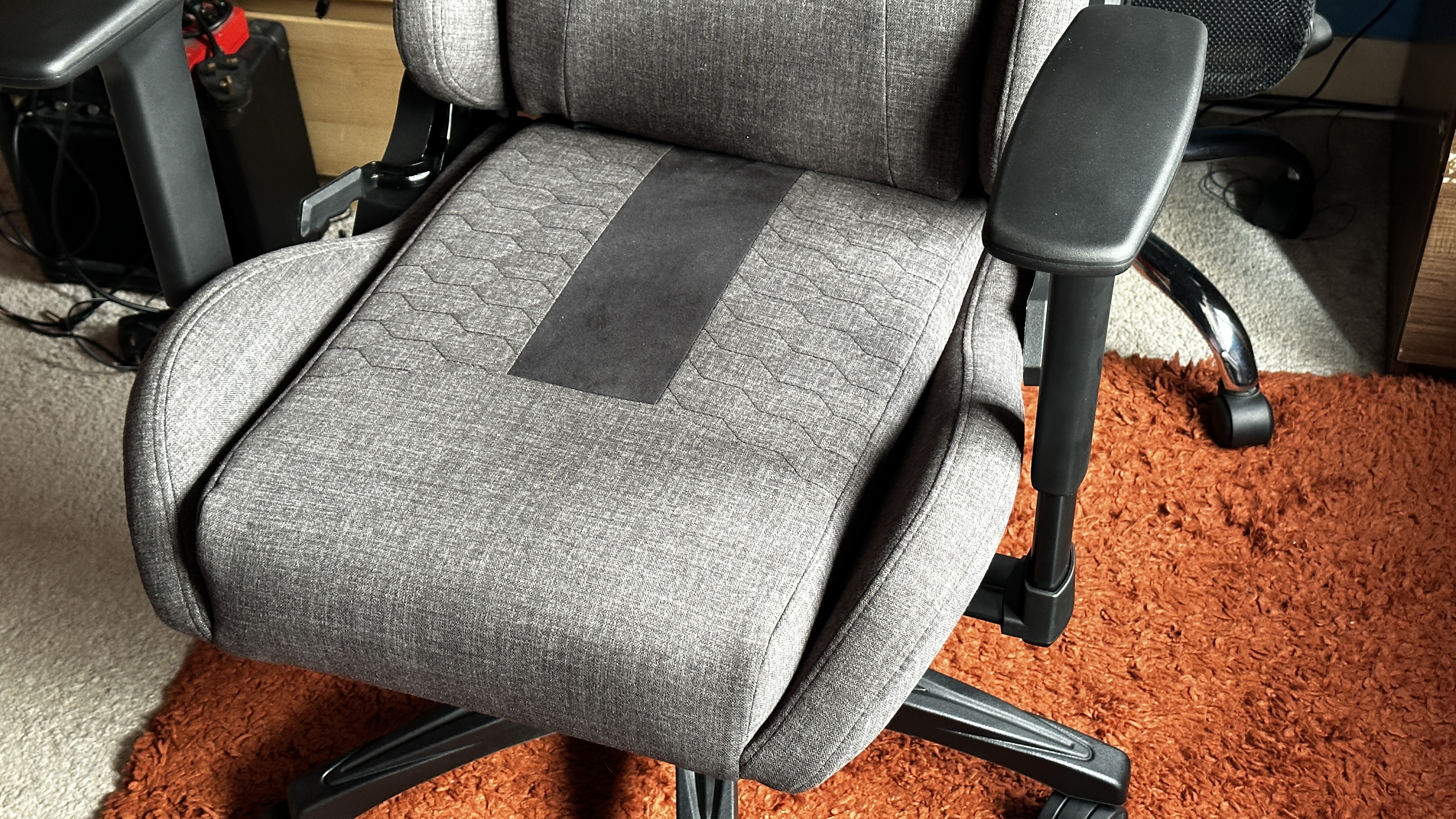 The design of the Corsair TC100 Relaxed is in-line with some of the brand's more premium gaming chairs, such as the pricier TC200 and the T3 Rush models. The Corsair badge is embroidered into the top of the headrest with a subtle layering of pattern material woven into the back. The included lumbar and neck pillows attach through elasticated bands, adding to the overall look. 
In terms of functionality, the Corsair TC100 Relaxed has a wide range of reclining angles. It ranges from 90 degrees (upright) to 160 degrees (almost horizontal). There's also ten degrees of tilt which aid with stability when leaning back on the stand. As expected from a budget gaming chair, there are no 4D armrests here, but those included with this model can be moved side to side and have their height adjusted. 
The Corsair TC100 Relaxed is a good-looking chair with a strong sense of style. It's understated enough to not look out of place in an office environment, so if you've had enough of gaudier models, this monochrome design may win you over. Considering the cheapest chairs I've had my hands on over the years in the $200 / £200 / AU$400 range, this is a definite step up in terms of looks and build quality, even if it doesn't feel that nice actually, to put together. 
Performance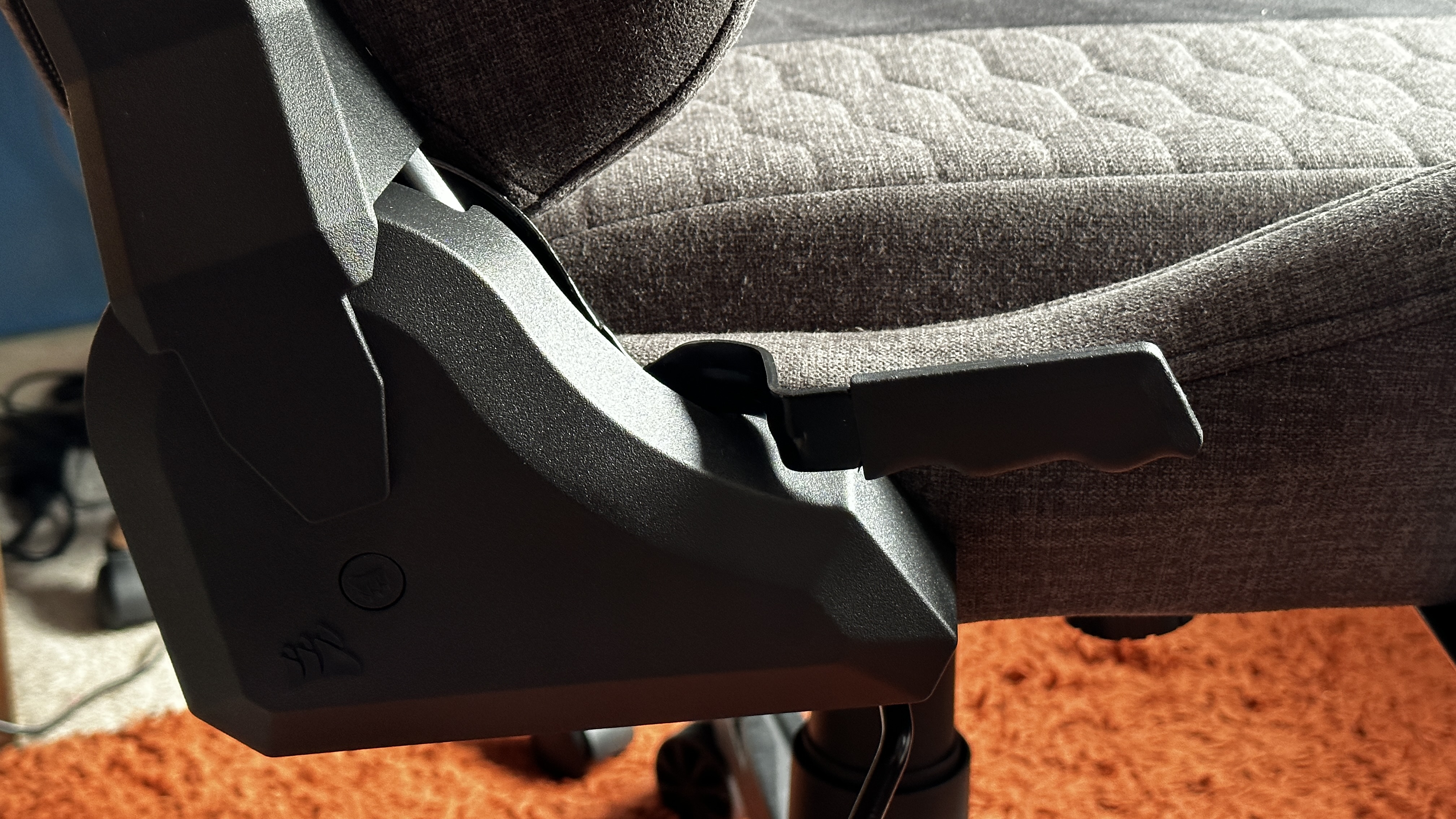 Sitting in the Corsair TC100 Relaxed is an above-average experience. Corsair says that its newest gaming chair supports up to 6ft2 and 264lbs, which is fairly standard for regular-sized gaming chairs. As someone who is 6ft tall and 200lbs, I felt well-supported by the lumbar and neck pillows and found that the racing style of the seat was wide enough to accommodate my frame without feeling hemmed in. 
I felt confident leaning back in the Corsair TC100 Relaxed thanks to the added ten degrees of rocking motion, which angles the seat before the reclining mechanism kicks in. It feels really good to use, especially given the budget nature of this gaming chair. Sitting upright for working is great, as my shoulders and lower back are properly supported. Sometimes with harder lumbar pillows, it can prove uncomfortable over time, but that's not something I've encountered with these. 
While there's nothing special about what the Corsair TC100 Relaxed offers, it's such a solidly built gaming chair with quality construction and style that its value is hard to argue against. It punches above its weight compared to what's generally seen around this rate, so if you're on a tight budget, this no-frills package has all you need at the sub-$200 / £200 / AU$400 mark.
Should I buy the Corsair TC100 Relaxed?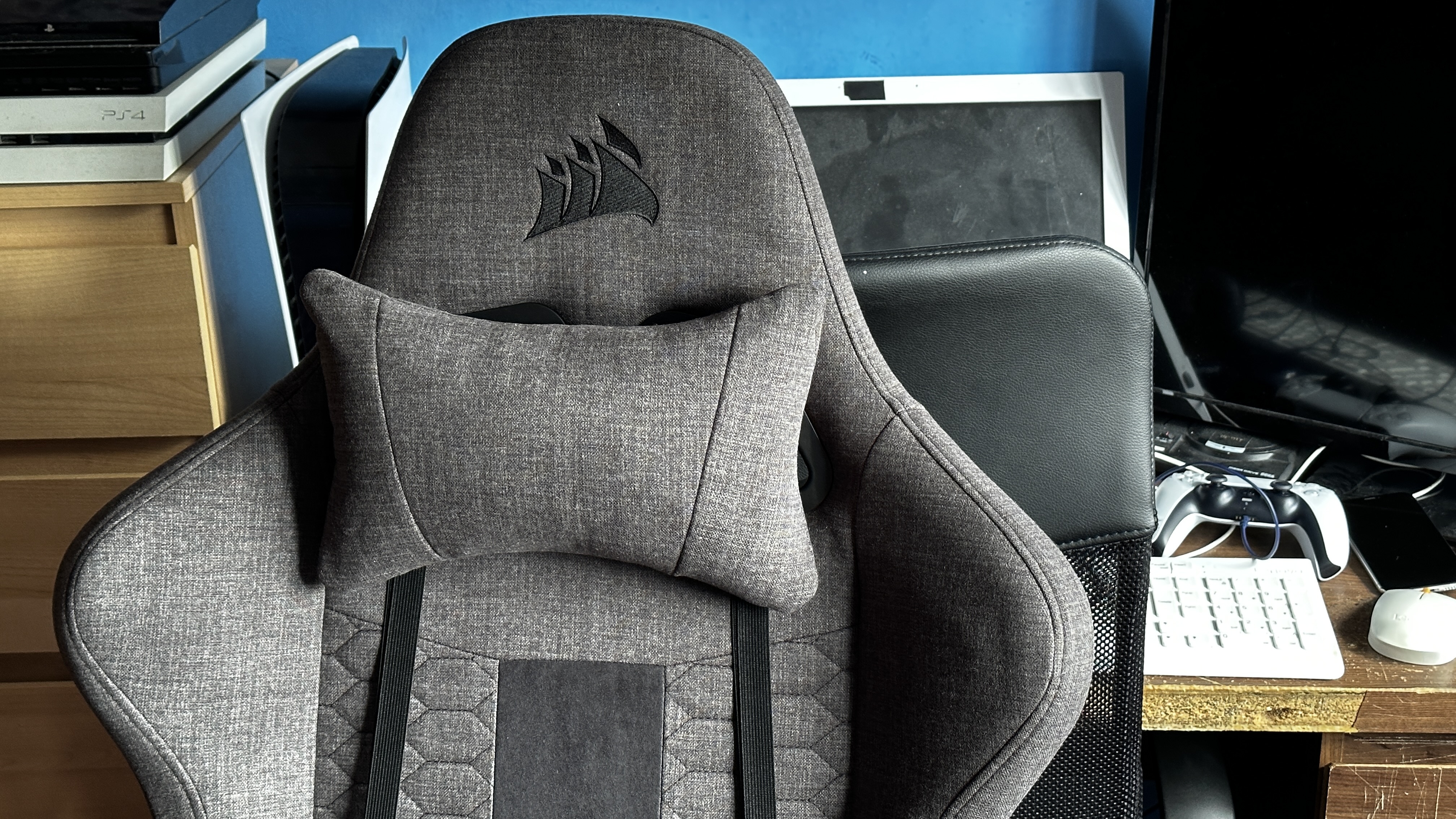 Buy if…  
You're after a cheap but high-quality gaming chair
The Corsair TC100 Relaxed is about as affordable as it gets from known brands. 
Lumbar support is important
The Corsair TC100 Relaxed comes with lumbar and neck pillows which add an extra level of comfort and support.  
 Don't buy if…  
You want something more premium
The Corsair TC100 Relaxed is as basic as it gets so there are no flashy gimmicks here.