Pod machines are so convenient that they're a critical element in many people's coffee consumption patterns, but while they make decent coffee in a fraction of the time, there's always been a sacrifice in the overall coffee flavor that distinguishes cups made from capsules to cafe-quality coffee.
It turns out that pod coffee as we know it is far from its peak and one Singaporian coffee company is here to give us a shot of pod coffee's true potential. The Morning Machine by Akronym is not your average pod machine, featuring: water and temperature control, in-built scales, and customizable pressure programs that allow you to extract the best possible flavor from any blend. 
This fundamental shift in extraction capabilities is paired with the company's extensive list of partnerships with passionate local and international coffee roasters who produce pods for the system and pair them with curated extraction programs. This means that each of the different types of coffee on offer have genuinely unique flavor profiles and open up an entire world of coffee tasting to anyone reliant on the simplicity of pod machines. 
This all might sound like it's building up to be an expensive process, but at $387 / £349 / AU$599, the Morning Machine isn't anywhere near as expensive as some of the top range pod machines available today… and it's even further from what you'd have to fork out for a manual machine that could produce coffee just as well. 
Even the specialty pods themselves aren't bank-breakingly pricey, with the vast majority of capsules landing between $0.80 (£0.5 / AU$1) and $1.40 (£0.75 / AU$1.50) per pod. The lower end of this range will get you a really decent coffee blend from a reputable local roaster that's perfect for mixing with milk. Increase that a little to the $1.40 (£0.75 / AU$1.50) mark and you'll start to get some decent single origin coffee with interesting flavors that are well suited to espressos and long blacks. There's even a handful of $2.20 ( £15.50 / AU$2.70) pods offering a more unique coffee-tasting experience that includes things like award-winning single origins from Panama and whiskey barrel aged beans that will satisfy the curiosity of even die-hard coffee aficionados. 
If this wide variety of capsules wasn't enough, the Morning Machine's collaborators also offer a decent variety of drip bags, decaffeinated coffee and compatible tea capsules for family members that don't go in for traditional espresso. 
Check out our Best coffee machines page to see how it compares.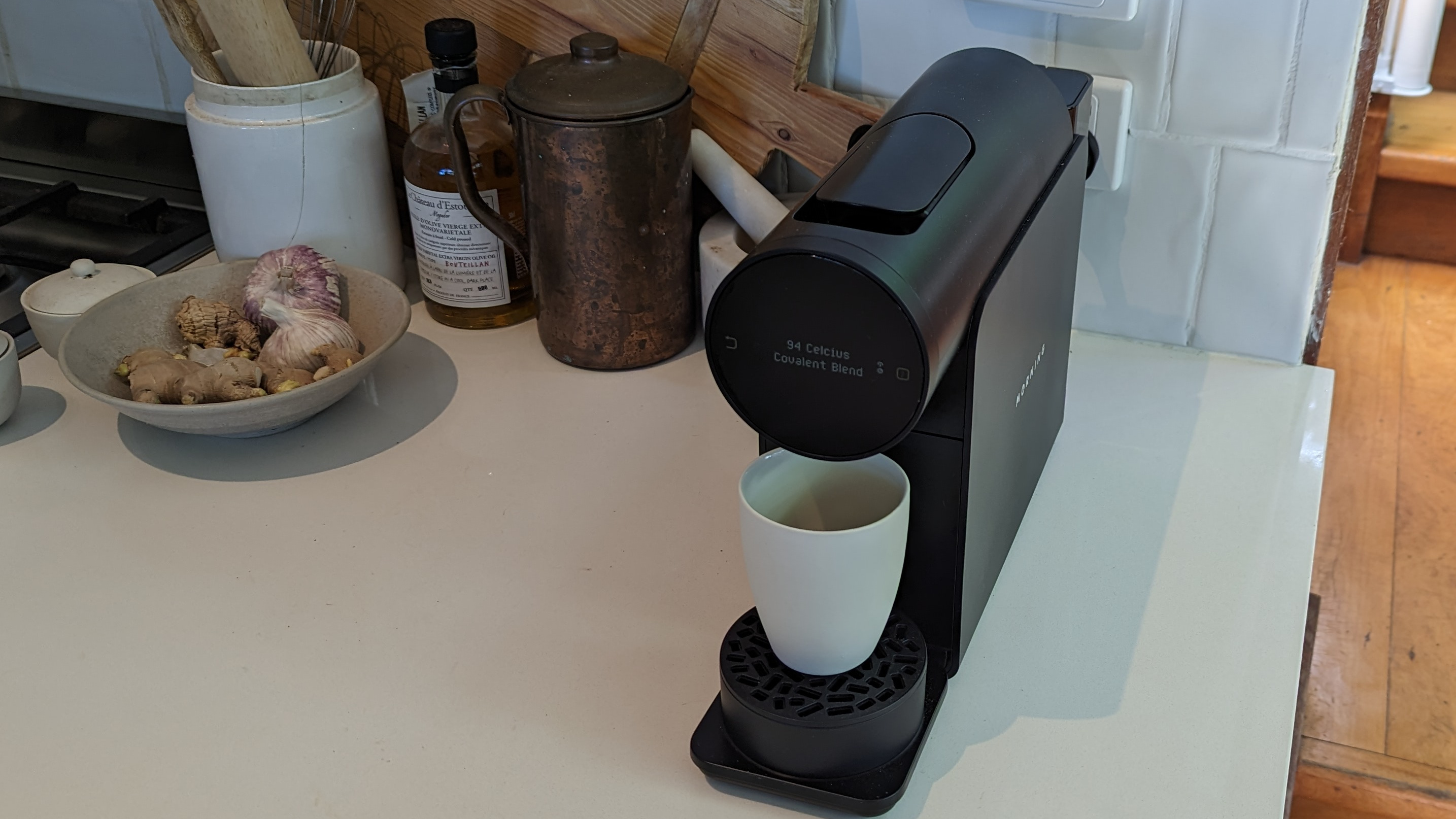 While good quality coffee is critical to making the perfect cuppa, the machine has a number of fundamentally different capabilities compared to your average pod machine that make it uniquely equipped to make excellent coffee. 
The first is the temperature control which can be set anywhere from 65º to 99º Celsius (149ºF to 210ºF). This might seem like a trivial function designed to cater to individuals who like to order a 'hot' coffee, but coffee extraction temperature actually has an important relationship to the balance of oils, caffeine and flavors you get from the brew. A few degrees difference can dramatically change the viscosity, bitterness and subsequent mouthfeel of two otherwise identical shots. 
Pressure and time are two other critical factors in extracting the best flavors from coffee that the Morning Machine allows you to tweak. Not only can you customize multi-stage pressure regimes that allow you to properly infuse coffee initially with water and then ramp up the intensity to really maximize the flavor you can extract, the length of time grounds are exposed to water and the weight of coffee extracted are both measured and adjustable to the exact quantities you'd like. All this amounts to an extremely versatile machine that is capable of making very sophisticated espresso shots in a wide variety of styles. 
If that whole last paragraph made it sound like this machine is perhaps too complicated for you, then feel free to be placated by the fact that the device can actually be as simple as you want it to be. Each coffee pod you buy already has a pre-configured extraction program designed by the people who made the coffee to best express the blend – all you have to do is select the coffee from the Morning by Akronym companion app and hit 'Brew'. 
The app is also great for seeing what coffee you'd like to try next and creates a handy interface for tweaking your roaster's recommendations if your tastes differ slightly from theirs, but this software isn't without faults. First and foremost we wish it was a little more able to dig into the coffee machine's settings so you could tweak them on the machine directly from the phone app, and monitor things like water level and how long until you're due for a device clean. 
Perhaps the main reason the app's limitations are even an issue is that the Morning Machine isn't always the most intuitive device to navigate. The settings are tucked away behind a push-and-hold menu interface that isn't the first place you'd look and while I was aware of all the functionalities during my testing, trying to find how to just pour hot water or other intermediate capabilities required me to consult a handbook. While some of the more advanced functions can be complicated, I found all the essential functions more than straightforward enough… so this limitation is hardly a dealbreaker.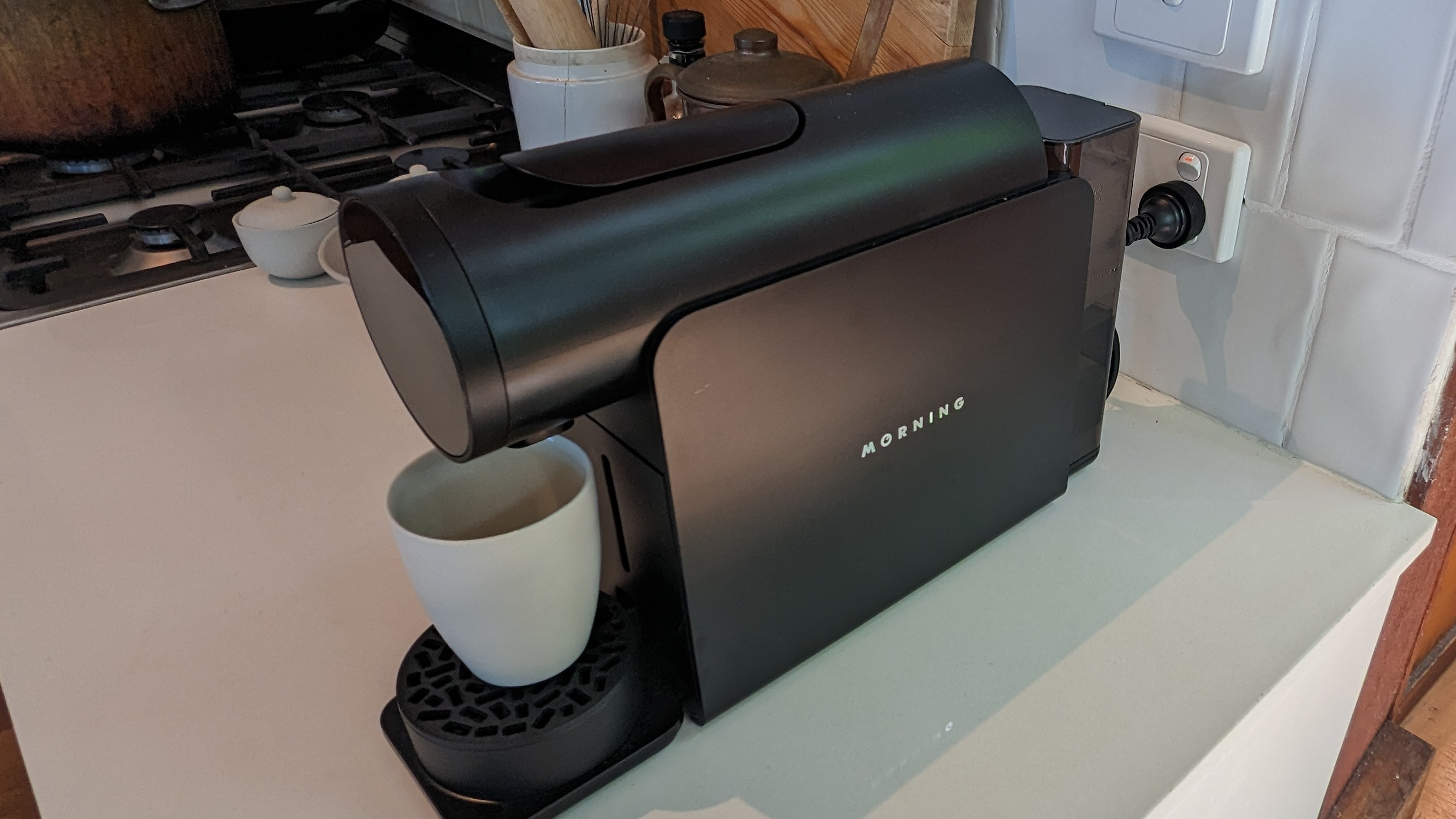 One feature that will be a challenge for many, however, is that the company doesn't yet have a solid option for heating and frothing milk. At the time of writing there was only a workaround solution – combining milk heated on the stove with the $46 (£45 / AU$56.50) Subliminal NanoFoamer V2 frothing wand. I've heard tell that it actually makes great microfoam (although I haven't tried it myself), but this is a very different level of convenience for anyone that wants milk with their Morning Machine coffee at this time, so it's something that definitely holds the product back from meeting its full potential. 
While Akronym might not have milk under its belt just yet, there are enough third-party standalone milk frothers out there that you can use to piece together a compact milk and coffee arrangement. It will be an additional $50 – $200 (£45 plus / AU$50 plus) cost that you'll have to factor into the overall equation, and while the espresso might be better than other pod machines, milk is the primary ingredient in many people's morning brew and it's obviously going to line up exactly with what you can already get. 
If you can wait till September 2023, Subliminal has a device called a NanoFoamer Pro on Kickstarter that looks like a significant improvement on today's standalone  milk frothers. The NanoFoamer Pro has some clever features like dose markings, temperature control, settings for alternate milks and a built-in spout to pour with more control, so we suspect it'll quickly become one of the best on the market.  
The Morning Machine system is already working with roasters to design recyclable aluminum and compostable packaging for anyone keen on keeping their environmental footprint to a minimum, and the device is officially compatible with Nespresso products (and vice versa for the aluminum capsules) for those who want to dabble before committing. Because of the standardized pod sizing, you shouldn't have any issues with reusable BYO coffee capsules, and the wide variety of water output options means you can use the device for a range of other instances, including hot chocolate, babies bottles or a cheeky cup of ramen noodles.  
All up this is a pretty amazing coffee machine that dramatically raises the bar in pod espresso quality… even if it doesn't have an equivalent tool for milk management just yet. 
The Morning Machine review: Price and release date
$387 / £349 / AU$599
Launched Nov 30, 2022
At the time of writing, the Morning Machine only sells direct to customer from the manufacturer for $387 / £349 / AU$599 for the machine alone.
While in Australia all the accessories are sold separately, in the US and UK you can buy a Morning Milk Bundle for $469 / £389, which includes a metal jug to heat on the stove and a Subliminal NanoFoamer V2. 
Pods cost between $8 – $22 / £4 – £15.50 / AU$9 – $27 for a pack of 10, depending on how unique and experimental you'd like the flavors to be. There's also options to buy drip bags, teas and other more unique brew styles.
The Morning Machine review: Specs
Swipe to scroll horizontally
| | |
| --- | --- |
| Pressure | Low – 20 bar (customisable, 3 stages 7 levels) |
| Temperature | 75 – 99 degrees Celsius (customisable) / 167 – 210 degrees Fahrenheit (customisable) |
| Application | iOS 10.0 and above – Apple App Store; Android 5.0 and above – Google Play Store |
| Size & Weight | 15.8 x 10.3 x 4 in / 40.2 × 25.5 x 10.2 cm | 9.9lbs / 4.5kg |
| Connectivity | Wi-Fi & Bluetooth App Connectivity |
| Coffee pod options | Over 82 unique coffee pods to choose from |
| Water tank capacity | 0.85L / 1.8 pt |
| Bin Capacity | 10 capsules |
| Screen | 1.44-inch OLED screen |
| Pods | Nespresso and 3rd party compatible |
Should you buy the Morning Machine?
Swipe to scroll horizontally
| Attribute | Notes | Score |
| --- | --- | --- |
| Features | Pressure, temperature and output controls make this the most sophisticated pod coffee machine we've ever seen… by a long way. | 5/5 |
| Coffee quality | This machine is capable of producing rich, single origin flavors that were once only achievable on manual machines. | 5/5 |
| Design | While the interface and asthetics are great, the solution for milk isn't as appealing and holds the overall design back. | 4/5 |
| Value | An approachable price point for a high quality coffee machine. | 5/5 |
Buy it if…
Don't buy it if…
Also consider
If you're not quite sold on the Morning Machine just yet, below are a couple of other options to consider.
Swipe to scroll horizontally
| | Nespresso Creatista Plus | Breville the Barista Express Impress | Nespresso Aeroccino 3 Milk Frother |
| --- | --- | --- | --- |
| Price | $649 / £529 / AU$949 | $749 / £729.95 / AU$999 | $99 / £79 / AU$109 |
| Pressure | 19 bar | 9 bar | NA |
| Temperature | Not adjustable | Adjustable | 160 – 170 deg F / 55 – 65 deg C |
| Output | 25-150ml | Custom | 120ml foamed |
| Size | 15.4 x 12 x 6.7 inch / 17.1 x 39.3 x 30.8 cm | 12.9 x 14.9 x 16.1inch / 33 x 38 x 41cm | 6.7 x 3.5 inch / 17 x 9cm |
| Coffee options | 39 | Unlimited | NA |
| Coffee price | $8.20 – $30 (10 pack) | Around $1 per black double shot coffee | NA |
HOW I TESTED THE MORNING MACHINE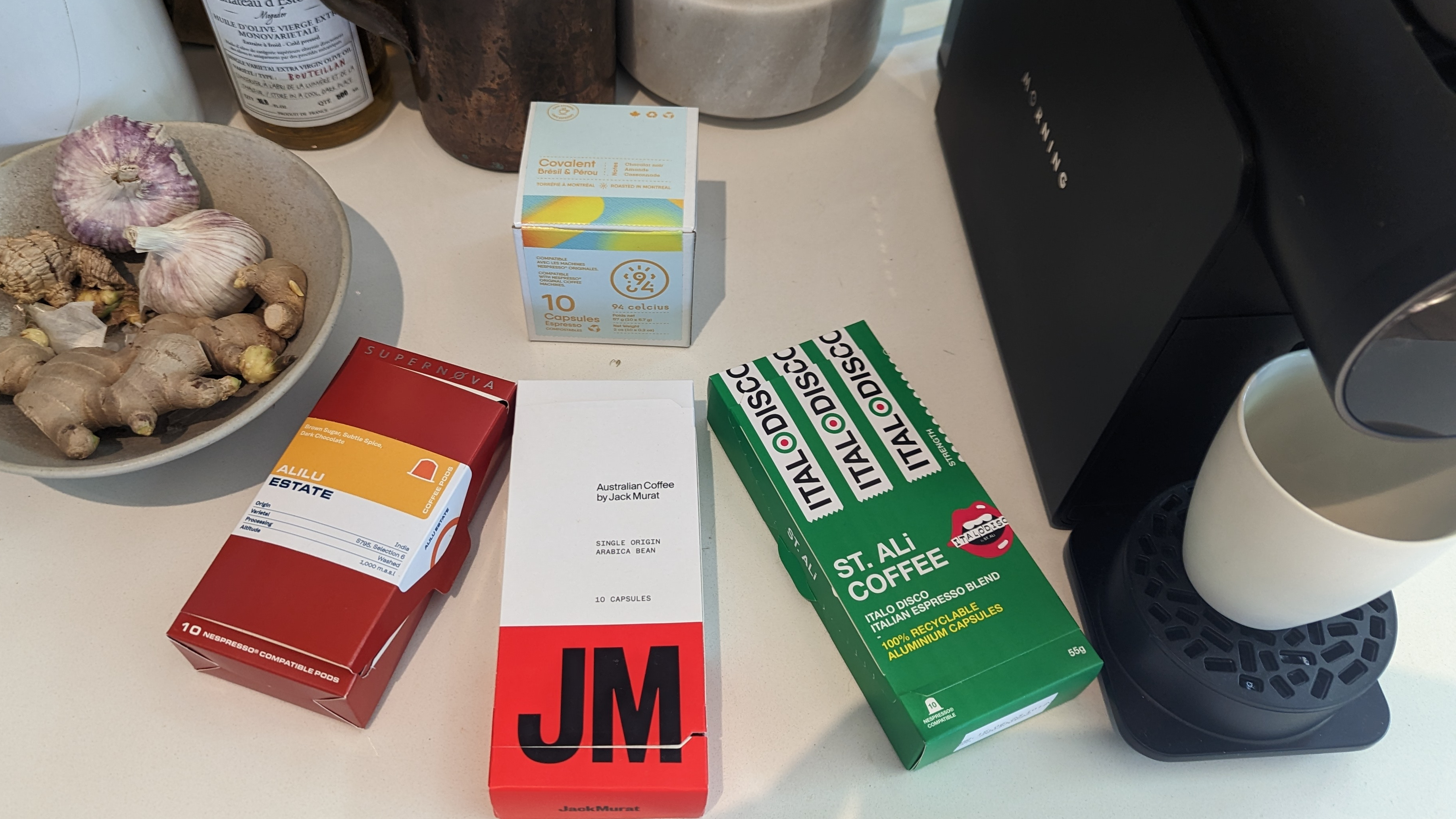 Tested for one week
Used at home and compared various blend and single origin coffees
Used the Drink Morning

(opens in new tab)

by Akronym Android App
To test the coffee machine I used it for a week alongside my existing manual coffee machine to compare the brew produced. I tasted eight different styles of coffees, with the majority of those coming from local roasters (in Australia where I am based) whose coffee I've tasted from manual machines. 
I did not test the Subliminal NanoFoamer V2 or the FlowTip milk jug, however years of using French press, Otto machines and other milk heating solutions has taught me how much work stovetop solutions can be.
Read more about how we test
[First reviewed March 2023]